Articles
10th EIASM International Conference on Tourism Management & Related Issues Valencia (Spain) september 2022.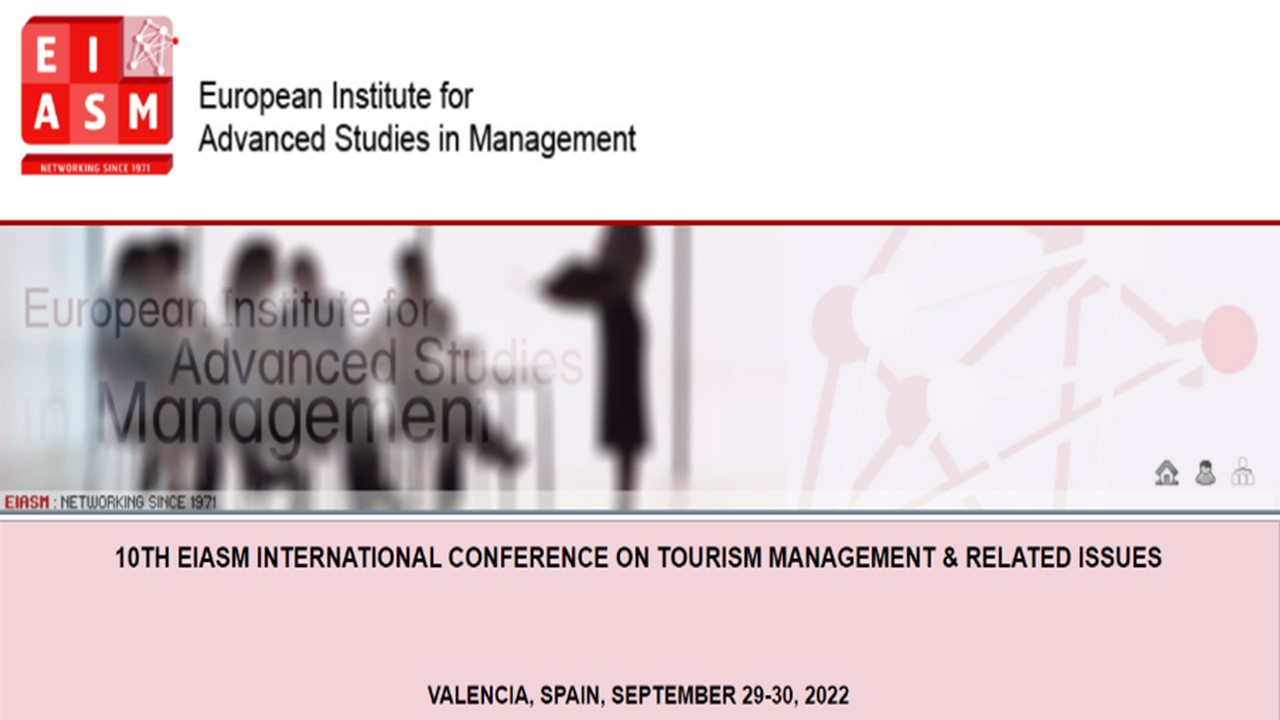 Over the last six decades, tourism has experienced continued expansion and diversification, becoming one of the largest and fastest-growing economic sectors in the world (United Nations World Tourism Organization, 2018).
More specifically, in spite of sporadic shocks, international tourist arrivals have recorded a virtually uninterrupted increase: from 277 million in 1980 to 1.4 billion in 2018.
The United Nations World Tourism Organization (UNWTO) in its long-term outlook of future tourism trends (Tourism Towards 2030) estimates that international arrivals worldwide are expected to reach nearly 1.8 billion by the year 2030.
A number of major factors can explain this dramatic increase in demand for tourism: (1) the process of globalization; (2) the development of mass transportation and motorization (and the parallel decrease in cost of transportation due to improvements in technology); (3) the rhythm of increase of world GDP as well as the increase of income to be allocated to travels; (4) the introduction of new ICT applications in the work of public and private stakeholders in the tourism sector; (5) the general improvement of security and rights for tourists.
Every and each of the abovementioned factors is significantly contributing to shaping a different institutional landscape and economic environment for a number of economic players such as Convention Bureaus, Professional Conference Organizers, Destination Management Companies, Airlines, Hotels, Conference Venues, Congress Centers, Convention Centers, Exhibition Centers. Moreover, companies in the tourism sector are confronted with increasing managerial challenges and have to deal with a turbulent and fast changing environment.
We invite contributions that focus especially, but not exclusively, on tourism, travel, leisure and hospitality management, with an emphasis on:
Hospitality management
Destination management & marketing
Congress management
MICE
Air transportation management
Antecedents of tourism collaboration
Archaeological sites management
World Heritage and intangible cultural heritage management
Urban and regional tourism planning
Tourism policies
Inter-organizational dynamics (e.g., mergers and acquisitions, joint venture, strategic alliances, coopetitive strategies, etc.) in the tourism sector 
Tourism marketing
Consumer behaviour and customer satisfaction
Online consumer behaviour and eWOM
Renewable sources of energy and tourism 
Glocalisation: managing the global and the local in the tourism industry
Human resources management
Ecotourism and sustainable tourism development
Entrepreneurship and SMEs
Performance management
Revenue management
ICT and tourism
Virtual and augment reality in tourism
Big data and business intelligence
Robots in tourism
Artificial intelligence
Automation
CSR
Sharing economy and tourism
Managing the skies: air transportation
The topics reported above are indicative and informative rather than exclusive. Other interesting work on tourism management and related issues that is not closely related to the themes above will be taken into consideration.
Co-chairs:
Enrique Bigné (University of Valencia).
Luisa Andreu (University of Valencia).
Iis Tussyadiah (University of Surrey, UK).
Marcello Mariani (University of Reading, UK).
Guest speakers:
Cathy Hsu(The Hong Kong Polytechnic University, Hong Kong); Editor of Tourism Management.
Luiz Moutinho(University of Suffolk, UK & University of the South Pacific, Fiji).
Submission deadline:
Interested scholars should submit a 3 pages structured extended abstract (of around 1,500 words) including the following:
Title
Purpose
Design/methodology/approach
Preliminary findings
Theoretical contribution and practical implications
Originality/value
Keywords
References
The Submission deadline for the extended abstract is 15 May 2022.
In case of acceptance, full papers will be requested by August 30, 2022.
Further info:
https://www.eiasm.org/frontoffice/event_announcement.asp?event_id=1450